News
10.20.17

TAP INTO YORKTOWN: Yorktown Breaks Ground on Lowe's
by Brian Marschhauser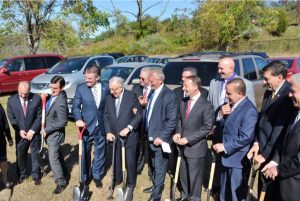 YORKTOWN, N.Y. – A feeling of euphoria was in the air Thursday as business leaders and elected officials gathered in Yorktown to celebrate the groundbreaking of a new development headlined by Lowe's, which underwent nearly a decade of review by local and state agencies.
In 2010, Breslin Realty submitted an application to build a 151,000 square-foot Costco Wholesale Club at 3220 Crompond Road, a vacant property that was once home to hotel. The project eventually fell apart due to a lengthy review process and opposition from residents and gas station owners.
With Costco out of the equation, Breslin Realty sought another major retail chain to take its place. Last year, the Garden City-based company submitted a revised plan with Lowe's as the centerpiece. The Yorktown Planning Board approved that project in December.
In addition to a 120,663-square-foot Lowe's and 25,448-square-foot garden center, the project also includes a 7,600-square-foot restaurant, a 4,500-square-foot restaurant and a 4,000-square-foot bank. Tenants for those buildings have not been announced.
According to Breslin, the development is on track to be built by November 2018.