News
10.02.17

SALE: 11.5 Acres of Land in Smithtown, NY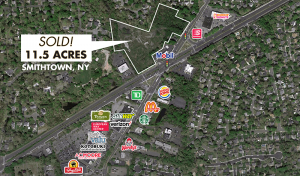 GARDEN CITY, NY (October 2, 2017) – Breslin Realty is proud to announce the sale of an 11.5 Acre property, located at the northwest corner of Nesconset Highway (SR 347) & Smithtown Islip Road (SR 111) in Smithtown, NY.
The land was purchased by the Beechwood Organization, with plans to develop townhouses on the property.
Beechwood is the largest home builder and developer of lifestyle communities on Long Island, one of the largest in New York State, and in the top 75 across the United States. They have built more than 7,000 homes in 60 communities across the New York metro area.
The transaction was arranged and negotiated by Charles Navarro of the Breslin Organization.
For further information, please contact Charles Navarro at (516) 741-7400 ext. 263.