News
12.02.20

LEASE SIGNINGS: The French Workshop & Trek Bicycles in Plainview, NY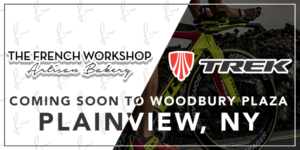 DÉJÀ VU AT WOODBURY PLAZA
GARDEN CITY, NY (December 2, 2020) – History is repeating itself at the Woodbury Plaza shopping center in Plainview, NY.
When Wilbur Breslin and his partner purchased the run down shopping center known at the time as Plainview Shopping Center in 1979, it was tenanted by JC Penney and a decayed satellite tenancy that included a bakery and a bicycle shop. The bicycle shop went out of business shortly after, and the bakery was demolished by a fire that burned the floors so badly that the store's basement was visible from the front door. Now, over four decades years later, Breslin is welcoming similar retailers back to his center.
The French Workshop, a first class bakery, and Trek Bicycles, a highly established bike retailer, are the exciting new tenants that will be opening at Woodbury Plaza later this year. They will be joining a stellar tenant mix that already includes Trader Joe's, Bed Bath & Beyond, CVS Pharmacy, GAP, GAP Kids, Greek Xpress, Banana Republic, Victoria's Secret, Men's Wearhouse, Bath & Body Works, Ann Taylor Loft, Optix, Cactus Salon, and Huntington Learning Center.
The French Workshop, occupying 3,840 square feet of the shopping center, is an artisan bakery & café with a menu consisting of pastries, breads, macarons, cakes, pies, brownies, and coffee. This will be their third location, with current locations in Bayside, NY and Garden City, NY.
Trek Bicycles is a cycling retailer and manufacturer whose products are sold through its own stores, as well as 1,700 independently owned bike shops across North America. They will be occupying 3,160 square feet of the center, and will sell Trek brand bicycles and accessories, with a full-service center for bike repair and maintenance.
Cary Fabrikant of Breslin Realty represented The French Workshop in that transaction, while Robert Delavale of the Breslin organization represented the landlord in both transactions.
Woodbury Plaza is an approximately 110,000 square foot shopping center in Plainview, NY, located the Southeast corner of Woodbury Road and South Oyster Bay Road. It is co-owned by Breslin Realty and Colin Development.
There is currently 3,500 square feet of retail space with a drive-thru available at Woodbury Plaza, as well as a 3,127 square foot former restaurant space. For further leasing inquiries, please contact Robert Delavale at (516) 741-7400 ext. 230.
About Breslin Realty
Breslin Realty Development Corp. develops, leases and manages properties occupied by a successful mix of national, regional, and local retailers. Since 1953, Breslin Realty Development Corp. has grown from a small retail brokerage office to a multi-faceted commercial real estate company with extensive expertise in land planning, development, tenant relationships, landlord representation, real estate appraisal, creative financing, property management, and construction. Today, the company manages a portfolio of commercial properties totaling over ten million square feet. For more information about BRDC, our portfolio and diversified group of services, please visit us at www.breslinrealty.com