News
01.10.19

LEASE SIGNING: State Farm Insurance in Hampton Bays, NY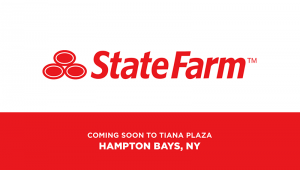 BRESLIN REALTY ANNOUNCES LONG-TERM LEASE WITH STATE FARM IN HAMPTON BAYS, NY
GARDEN CITY, NY (January 10, 2019) – Breslin Realty is proud to announce the recent long-term lease signing of State Farm at Tiana Plaza in Hampton Bays, NY.
State Farm will be occupying approximately 1,500 square feet of the shopping center, located 252 West Montauk Highway.
State Farm operates over 340 offices across in the United States, and is the largest auto, property and casualty insurance provider in the country.
The transaction was arranged and negotiated for the landlord by Bill de Seve and Robert Delavale of the Breslin Organization.
Additional Tiana Plaza retail includes Dollar Tree, Wild by Nature, Planet Fitness, HSBC, Domino's, Hampton Gyro & Grill, and more.
There is currently up to 11,000 square feet of retail space available at Tiana Plaza. For further leasing inquiries, please contact Robert Delavale at (516) 741-7400 ext. 230.
About Breslin Realty
Breslin Realty Development Corp. develops, leases and manages properties occupied by a successful mix of national, regional, and local retailers. Since 1953, Breslin Realty Development Corp. has grown from a small retail brokerage office to a multi-faceted commercial real estate company with extensive expertise in land planning, development, tenant relationships, landlord representation, real estate appraisal, creative financing, property management, and construction. Today, the company manages a portfolio of commercial properties totaling over ten million square feet. For more information about BRDC, our portfolio and diversified group of services, please visit us at www.breslinrealty.com