News
11.19.20

LEASE SIGNING: Ridgewood Savings Bank in Yaphank, NY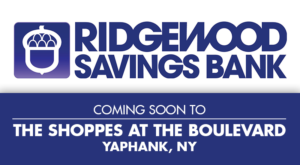 GARDEN CITY, NY (November 19, 2020) – Breslin Realty is proud to announce the recent long-term lease signing of Ridgewood Savings Bank in Yaphank, NY.
Ridgewood Savings Bank will be occupying a 2,500 square foot pad building at the to-be-built 300,000 square foot shopping plaza, The Shoppes at The Boulevard.
The Shoppes at the Boulevard is a section of the larger 150 Acre mixed-use development siteknown as The Boulevard, located at the northwest corner of William Floyd Parkway, and the Long Island Expressway at Exit 68. In addition to retail, The Boulevard is proposed to feature over 2,000 residential and senior living units, as well as a town park and recreation complex.
The Shoppes at the Boulevard will be anchored by a 197,000 square foot Walmart Supercenter, which is expected to open in 2021. Ridgewood Savings Bank is also expected to open in approximately twelve months when construction is completed.
Ridgewood Savings Bank is the largest mutual savings bank in New York State, and currently operates over 35 locations across Long Island, New York City, and Westchester County.
Richard MacDougall of Breslin Realty represented the tenant in the transaction. Rose-Breslin Associates LLC is the landlord.
About Breslin Realty
Breslin Realty Development Corp. develops, leases and manages properties occupied by a successful mix of national, regional, and local retailers. Since 1953, Breslin Realty Development Corp. has grown from a small retail brokerage office to a multi-faceted commercial real estate company with extensive expertise in land planning, development, tenant relationships, landlord representation, real estate appraisal, creative financing, property management, and construction. Today, the company manages a portfolio of commercial properties totaling over ten million square feet. For more information about BRDC, our portfolio and diversified group of services, please visit us at www.breslinrealty.com