News
06.07.18

GRAND OPENING: Suly's Smoothies Cafe in Hampton Bays, NY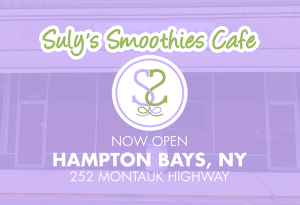 GARDEN CITY, NY (June 7, 2018) – Breslin Realty is proud to announce the recent grand opening of Suly's Smoothies Café at 252 W Montauk Highway, Hampton Bays, New York.
Suly's Smoothies is occupying 2,760 square feet in the Tiana shopping center. This is their first Long Island location.
Suly's Smoothies Café serves fresh, organic smoothies, salads, healthy meals, açaí bowls and much more.
The transaction was arranged and negotiated by Robert Delavale of the Breslin Organization.
Additional Tiana Plaza retail includes Wild by Nature, Dollar Tree, Planet Fitness, HSBC, Domino's Pizza, Ming Garden Chinese Food, Hampton Bays Bagels, and Cork N' Jug Wines & Liquors.
There is currently various retail space sizes available at Tiana Plaza. For further leasing inquiries, please contact Robert Delavale at (516) 741-7400 ext. 230.