News
12.09.20

GRAND OPENING: Dickey's Barbecue Pit in Freeport, NY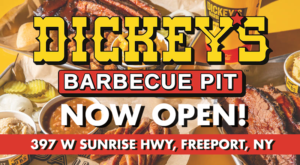 GARDEN CITY, NY (December 9, 2020) – Breslin Realty is proud to announce today's Grand Opening of Dickey's Barbecue Pit at 397 West Sunrise Highway in Freeport, NY.
Dickey's is now occupying 1,575 square feet in the recently reconstructed Park Plaza at the southeast corner of Sunrise Highway and Park Avenue.
Dickey's Barbecue Pit is a fast-casual restaurant that serves beef brisket, pulled pork, pork ribs, sausages, and chicken. The Texas-based restaurant chain was established in 1941, and continues to use its original recipes 80 years later. There are currently over 470 locations nationwide.
Cary Fabrikant of the Breslin organization represented the tenant in the transaction, and Bill de Seve, also of the Breslin organization, represented the landlord.
Additional Park Plaza retail includes a Leslie's Pool Supplies, and Classique Home Furniture Store, both transactions also negotiated by Bill de Seve of Breslin Realty.
There is currently 1,650 square feet still available in Park Plaza. For further leasing inquiries, please contact Bill de Seve at (516) 741-7400 ext. 233.
About Breslin Realty
Breslin Realty Development Corp. develops, leases and manages properties occupied by a successful mix of national, regional, and local retailers. Since 1953, Breslin Realty Development Corp. has grown from a small retail brokerage office to a multi-faceted commercial real estate company with extensive expertise in land planning, development, tenant relationships, landlord representation, real estate appraisal, creative financing, property management, and construction. Today, the company manages a portfolio of commercial properties totaling over ten million square feet. For more information about BRDC, our portfolio and diversified group of services, please visit us at www.breslinrealty.com