News
04.18.23

GRAND OPENING: Boot Barn in Bohemia, NY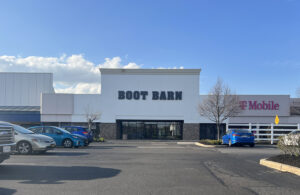 GARDEN CITY, NY (April 18, 2023) – Breslin Realty is proud to announce the recent grand opening of Boot Barn at 5187 Sunrise Highway, Bohemia, NY.
On April 5th, Boot Barn officially opened a 10,000 square foot store in the recently rejuvenated Sayville Plaza shopping center.
Boot Barn is a national retail chain with a variety of Western and work-related apparel, including work boots, cowboy hats, shoes, outdoor gear, and accessories. They are one of several exciting new tenants that are joining Sayville Plaza this year, including Christmas Tree Shops and F45 Fitness.
The transaction was arranged and negotiated for the landlord by Robert Delavale of the Breslin organization.
Additional Sayville Plaza retail includes Old Navy, Panera Bread, The Vitamin Shoppe, Chipotle Mexican Grill, T-Mobile, Floor & Décor, At Home, Aldi, Joanne's Fabrics, and coming soon: Christmas Tree Shops, Harbor Freight, and F45 Fitness.
For further leasing inquiries, please contact Robert Delavale at (516) 741-7400 ext. 230.