News
05.12.21

LEASE SIGNING: Moolala in Wantagh, NY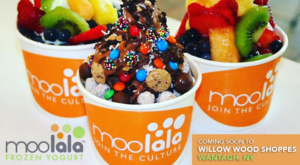 GARDEN CITY, NY (May 12, 2021) – Breslin Realty is proud to announce the signing of a long term lease with Moolala Frozen Yogurt at 1163 Wantagh Avenue, Wantagh, NY.
Moolala will be occupying 1,525 square feet of the Willow Wood Shoppes shopping center.
Moolala is a frozen yogurt shop with also serves smoothies, acai bowls, custom cakes, and more, with vegan and no-sugar options available. They currently operate one other location, in Merrick, NY.
The transaction was arranged and negotiated for the landlord by Robert Delavale of the Breslin Organization, and Ken Breslin represented the tenant on behalf of Sabre Real Estate Group.
Additional Willow Wood retail includes Petco, Starbucks, ProHEALTH Care, Jovia Financial Credit Union, Sterling Bank, Jani Restaurant, Club Pilates, and coming soon: Guac Shop.
There is currently a 3,250 square foot space available at Willow Wood Shoppes. For further leasing inquiries, please contact Robert Delavale at (516) 741-7400 ext. 230