News
10.30.19

LEASE SIGNING: Ivy Rehab Physical Therapy in Baldwin, NY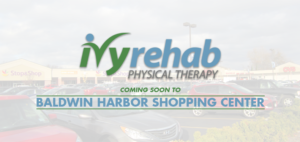 GARDEN CITY, NY (October 30, 2019) – Breslin Realty is proud to announce the recent long-term lease signing of Ivy Rehab Physical Therapy in Baldwin, NY.
Ivy Rehab will be occupying approximately 2,625 square feet of the 90,000 square foot Baldwin Harbor Shopping Center, located at the northest corner of Atlantic Avenue and Grand Avenue.
Founded in 2003, Ivy Rehab is a rapidly growing network of best-in-class outpatient physical & occupational therapy clinics dedicated to providing exceptional care and personalized treatment to get patients feeling better, faster.
Baldwin Harbor Shopping Center recently underwent a full scale renovation, and is scheduled to hold its Grand Re-Opening soon.
Anchored by Stop & Shop, additional tenants at Baldwin Harbor Shopping Center include CVS Pharmacy, Ace Hardware, Verizon Wireless, Chase Bank, Gino's Pizza, and Angel Tips Nail Spa.
The transaction was arranged and negotiated by Bill de Seve of the Breslin organization.
Baldwin Harbor Shopping Center is owned by Baldwin Harbor Associates, and managed by Breslin Realty Development Corp.'s third party management affiliate, Garden Realty Management.
There is currently 1,850 square feet available to lease next to Stop & Shop in Baldwin Harbor. For further leasing inquiries, please contact Bill de Seve at (516) 741-7400 ext. 233. For third party management inquiries, please contact Robert Rosenberg at (516) 741-7400 ext. 246.
About Breslin Realty
Breslin Realty Development Corp. develops, leases and manages properties occupied by a successful mix of national, regional, and local retailers. Since 1953, Breslin Realty Development Corp. has grown from a small retail brokerage office to a multi-faceted commercial real estate company with extensive expertise in land planning, development, tenant relationships, landlord representation, real estate appraisal, creative financing, property management, and construction. Today, the company manages a portfolio of commercial properties totaling over ten million square feet. For more information about BRDC, our portfolio and diversified group of services, please visit us at www.breslinrealty.com