News
10.09.17

LEASE SIGNING: Halal Guys at Republic Plaza in Farmingdale, NY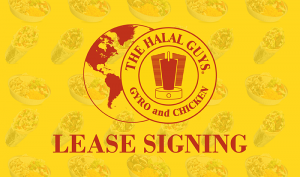 BRESLIN REALTY ANNOUNCES LONG-TERM LEASE SIGNING OF THE HALAL GUYS AT REPUBLIC PLAZA IN FARMINGDALE, NY
GARDEN CITY, NY (October 9, 2017) – Breslin Realty is proud to announce the signing of a long term lease with The Halal Guys at 901 Broadhollow Rd, Farmingdale NY.
The Halal Guys will be occupying 1,500 square feet in the Republic Plaza shopping center. This will be their first Long Island location.
The Halal Guys is a fast casual restaurant that began as a food cart in New York City in 1990, and has since expanded to almost 50 locations throughout the United States, Canada, and Asia. They serve halal and Middle-Eastern sandwiches & platters such as gyros, chicken, and falafel.
The transaction was arranged and negotiated by Robert Delavale of the Breslin Organization.
Additional Republic Plaza retail includes Walmart, Chili's Grill & Bar, Panera Bread, Chipotle Mexican Grill, Houlihan's, and Bank of America.
There is currently 2,500 square feet still available at Republic Plaza. For further leasing inquiries at Republic Plaza, please contact Robert Delavale at (516) 741-7400 ext. 230.