News
01.21.21

GRAND OPENING: KPOT KOREAN HOT POT & BARBECUE IN PHILADELPHIA, PA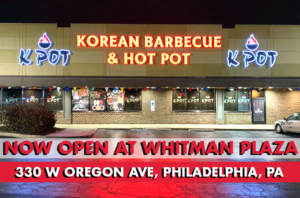 GARDEN CITY, NY (January 21, 2021) – Breslin Realty is proud to announce the recent Grand Opening of KPot Korean Hot Pot and Barbecue at 330 W Oregon Ave, Philadelphia, PA.
KPot officially opened their doors on January 15, 2021, and are occupying a 10,263 square foot building in the Whitman Plaza Shopping Center. This is their second Philadelphia location.
KPot is a Korean restaurant specializing in Hot Pot and Korean Barbecue. Hot Pot is an Asian cooking method, prepared with a simmering pot of soup stock at the dining table, containing a variety of East Asian ingredients. While your hot pot is simmering, ingredients are placed into the pot and are cooked at table in a manner similar to fondue. The Korean Barbecue is also cooked at the table by the diners themselves, with a menu including fresh quality meats, seafood, noodles, and vegetables.
The transaction was arranged and negotiated for the landlord by Robert Delavale of the Breslin Organization. The tenant was represented by Craig Hantgan of Esquire Properties.
Additional Whitman Plaza retail includes ShopRite, Burlington Coat Factory, Ross Dress for Less, Blink Fitness, Goodwill, PennDOT, Party City, Citizens Bank, Rainbow Shops, GameStop, ChenMed, GNC, Dunkin Donuts, Sally Beauty Supply, Cavity Busters, One Main Financial, and more.
There is currently a 4,800 square feet retail space, and a 4,400 square foot endcap still available at Whitman Plaza. For further leasing inquiries, please contact Robert Delavale at (516) 741-7400 ext. 230.
About Breslin Realty
Breslin Realty Development Corp. develops, leases and manages properties occupied by a successful mix of national, regional, and local retailers. Since 1953, Breslin Realty Development Corp. has grown from a small retail brokerage office to a multi-faceted commercial real estate company with extensive expertise in land planning, development, tenant relationships, landlord representation, real estate appraisal, creative financing, property management, and construction. Today, the company manages a portfolio of commercial properties totaling over ten million square feet. For more information about BRDC, our portfolio and diversified group of services, please visit us at www.breslinrealty.com