News
12.17.20

GRAND OPENING: Burger Village in Farmingdale, NY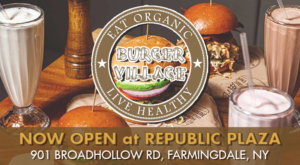 GARDEN CITY, NY (December 17, 2020) – Breslin Realty is proud to announce this week's Grand Opening of Burger Village at 901 Broadhollow Road, Farmingdale, NY.
Burger Village is a 2,500 square foot restaurant serving organic, all natural, antibiotic and hormone free products in the form of juicy burgers, fresh hand cut fries, salads, soups, shakes and other beverages along with delicious desserts. Farmingdale is the franchise's seventh location, with operating restaurants across New York, California, and Edmonton.
Burger Village is the latest casual restaurant to open at Republic Plaza, where diners are likely to find anything that they crave. It joins other diverse dining tenants such as Chili's, Houlihan's, Panera Bread, Chipotle Mexican Grill, The Halal Guys, and the recently opened Blaze Pizza in the shopping center.
This unique, food-oriented environment is anchored by the newly expanded 219,450 square foot Walmart Supercenter; the largest unit to date in the New York metro area.
The Burger Village transaction was arranged and negotiated for the landlord by Robert Delavale of the Breslin Organization.
There is currently an 8,476 square foot restaurant pad building available for lease at Republic Plaza. For further leasing inquiries, please contact Robert Delavale at (516) 741-7400 ext. 230.
About Breslin Realty
Breslin Realty Development Corp. develops, leases and manages properties occupied by a successful mix of national, regional, and local retailers. Since 1953, Breslin Realty Development Corp. has grown from a small retail brokerage office to a multi-faceted commercial real estate company with extensive expertise in land planning, development, tenant relationships, landlord representation, real estate appraisal, creative financing, property management, and construction. Today, the company manages a portfolio of commercial properties totaling over ten million square feet. For more information about BRDC, our portfolio and diversified group of services, please visit us at www.breslinrealty.com